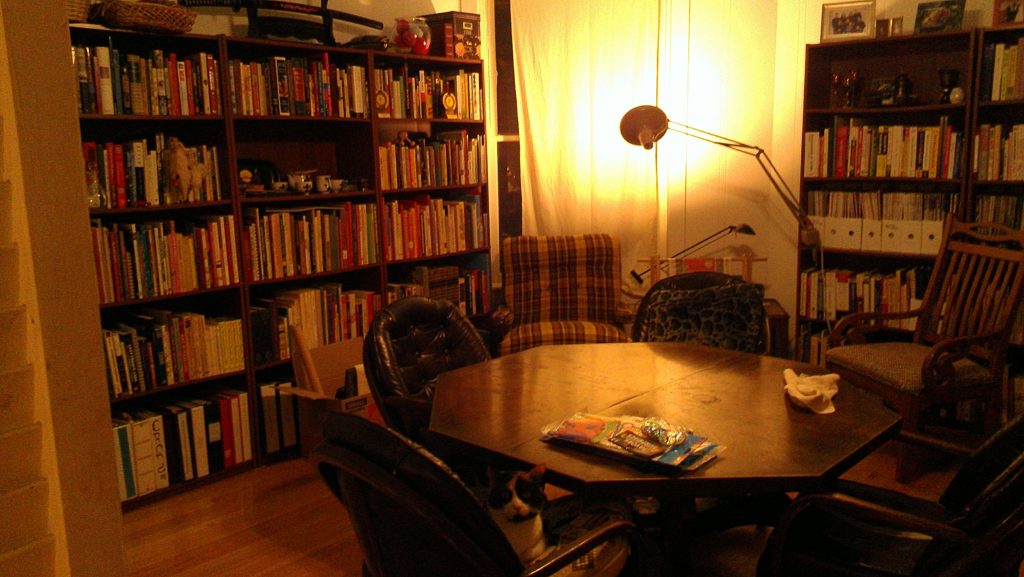 I didn't like books at first.  I liked it when my dad read to me, but I didn't read myself.  I learned how to read interesting books around age six, graduating from the boring "See Jane Run" types.  My mother had a set from when she was a child that were graded by year, and I read those.  But something was still missing.
Then my father took me to the library and showed me how to find good books.  The first couple times, he picked for me and I couldn't figure out how to do it for myself.  When I picked out books, they didn't have the same "fun" that the ones he picked did – like the one about the cat who lived in a firehouse and was a hero.
One day, I got determined and marched into the library at school.  I found Phyllis A. Whitney's mysteries and that's when it happened:  the inner worlds opened and I glimpsed the power and glory of books.  I've never looked back.
Recently, two friends on an online writing forums shared how they pared down their book collection because their books were mostly ebooks now.  It unsettled me, deeply, because I adore my library.  I love the look and feel of the books, and I love coming home to the dining room/library.  In January of 2015 I went through on a massive project to re-classify and organize all my books (of which the above picture is only a fraction).  My husband and I have a lot of books.  While there may come a time where I cull the physical library, it will not be this day.  (Thank you, Peter Jackson, for that syntax [from The Return of the King, Aragorn's speech to the Men of the West and the Riders of Rohan].)
I even have a theme on this very blog called "A Writer In Her Library," where I explore and ruminate on books, my books in particular, and share a little bit of my love for them.  In preparing for today's post, I tried to think of something "Zen" to share, and thought of Lao Tzu, one of the Zen Masters.  Then I came across a small blue volume that I picked up at a used book sale for three dollars:  Simple Things:  Some Appreciations of the Small Joys in Daily Life from HOUSE & GARDEN.  It includes such essays as, "Salt," by Aldous Huxley, and "The Coat Hanger," by Aubrey Menen.  That's why I like a physical library – one can wander in and, at random, pull something off the shelf that speaks to one.  I highly recommend you try it – if not in your own library, then at your local public one.  You'll be glad you did.
---
Thank you for joining us for the A-Z Blog Challenge.  If you're blogging in the challenge, please leave us a link so I can come visit you too.  If you have a moment, please check out these other fine blogs:
The theme on my main blog, Explore the Worlds of A. Catherine Noon, is The A To Z of the Zoo.  Join me as I explore Brookfield Zoo and finds animals, birds, and insects from A to Z.
My theme on my Knoontime Knitting craft blog is Letterforms In Nature and the Built Environment.
The theme at Noon & Wilder is The A To Z of Chicago.  Since I live here in the city and we have our Chicagoland Shifters based here, I figured I'd share a window into the city, Noon & Wilder style.
The Nice Girls Writing Naughty have a new home, and we're blogging in the challenge again this year.  Throughout the month you'll be hearing from each of the Nice Girls, and during the RT Booklovers Convention from April 12th to the 17th, you'll be getting live convention reports.  Join the conversation!
The Writer Zen Garden's brand new website is up and running, and we're bringing you posts from me, Noony; my partner in crime, Rachel Wilder (the Wilder half of Noon & Wilder); the talented Darla M. Sands – a blogger in her own right, see below; as well as Grace Kahlo, Evey Brown, and author Tina Holland.  Check it out!
My friends who are participating in the challenge (and if you're not on this list, tell me and I'll add you!):
Write on, and Happy Blogging!