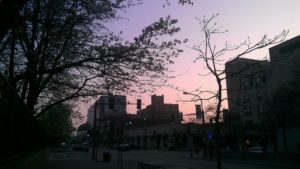 Sunrise Over Evanston or, What's the "O" For? Oh, my God, it's early! (Thank you Robin Williams!)
Image Copyright 2015 A. Catherine Noon; All Rights Reserved
So, those of you who are paying attention will notice that it's actually Thursday. Yup. This may give you some indication of my state of the state, compounded to the fact that someone seems to have ripped May out of my calendar completely and it feels like it still should be early April. Maybe March.
This actually gave me my idea for today's post: the "dreaded middle," or the "sagging middle," take your pick. Where I am in my life, the "sagging" is more apt on many levels, some of which I'm not prepared to discuss. ~grin~ So. Middles.
Writers talk of the middles as being the hardest part of writing a novel. Sure, crafting an opening that snares the reader, and finishing off with a bang, are all to be desired. But once we have them, there's still the problem of the journey. Do we add layers? Do we have too many characters? Too few? What about that plot twist that you weren't a hundred percent sure of – now that you're at the other side of the mountain, does it provide shade, or block the light?
One of my buddies on Romance Divas, author Amity Lassiter, shared some motivation with the board that I think applies to how I'm feeling today. I'll share it with you, but first, a warning: it's loud, and rather startling, but very worth it – especially if you, like me, get stuck in the middle.
We can do this.