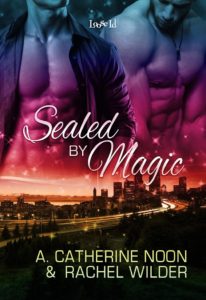 I'm very excited! The next novel in the Emerald City Shifters is out –
SEALED BY MAGIC
. We're so excited with the cover; Valerie Tibbs is the artist and she did a fantastic job. The cover art process is interesting. We fill out a form with information about the book including the plot, character descriptions, and key descriptions. Valerie took that little bit of information and made an awesome cover.
And in more news, we're almost ready to go live on the new Writer Zen Garden website! The blog will move over there, and we'll have a bunch of new content to share. It should happen in the next few weeks, so get your mouses ready.
Which brings me to my final question: what brings you back to your favorite websites over and over again? Features? Appearance? Something else? Tell me in the comments; I'd love to know!