Studies have been around for years stating that sitting for long periods can be detrimental to your health. I've read that office workers should stand at least once an hour if only for brief minutes. I know it can be tough when there is a constant flood of phone calls or emails, but I suggest setting some sort of unobtrusive timer so you don't neglect yourself completely.
Maybe a silent running stopwatch on your desktop will suffice. Some time during each hour, make the effort to visit the water cooler or the restroom or even just stand and stretch. Having an alternate standing desk would be ideal, though I don't know who can afford one for their home, let alone request such a thing from their employer. So move when you can and don't be shy about telling folks the reason.
Make sure others know you are not slacking on the job. Tell naysayers that a brief respite from the computer screen will not only benefit tense muscles and strained eyes. In fact, physical movement engages the brain differently. Maybe you'll see a new solution to an old problem.
As for me, I'm blessed with a laptop that can go from desk to table and even my recently discovered impromptu standing desk. That is, as long as the cats aren't using it…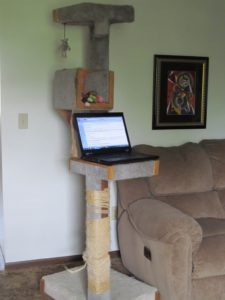 Healthy writing! Do you have any suggestions?
–