I missed my scheduled post this week due to finals overload, but, better late than never, right? I am proud to say that this amazing Wild Child/Freya's bower rising star is my mentor through Romance Divas and has imparted plenty of valuable wisdom since we've been working together.
But
that has absolutely
no
bearing on this review. *grin*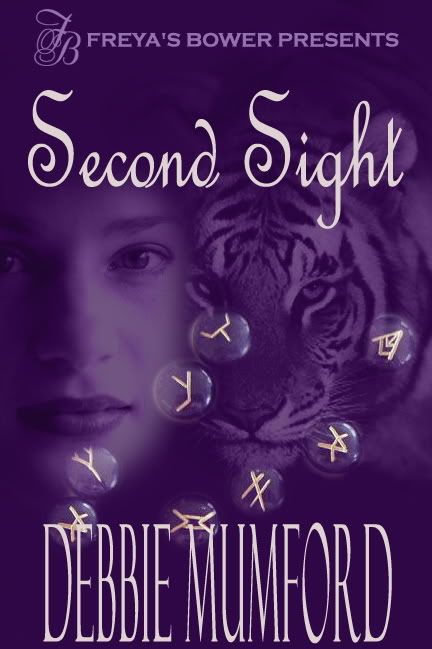 This story was a quick read. I started it once, but got peeled away from it and didn't come back until recently. The beginning pulled me right in with an intriguing 'occult' type murder and a psychic investigator Angie's peculiar reaction to it, which befuddles her fiance and (sensitive but not psychic) partner, Zach Douglass. The mystery compounds when the psychic, Angie, dies suddenly – but not before handing over a book and a message to Zach. She tells him to find Jenny Murdoch, who turns out to be a translator. Zach takes the book Angie left him to Jenny, hoping she can help him unravel the mystery.
When they meet, there's an indescribable attraction between Jenny and Zach. Her inner psychic ability takes the form of a tiger in her mind, and for the first time in her young, troubled life, the big cat is calm and content – thanks to Zach's presence. Zach feels an uncanny draw to Jenny as well, and his fiances voice echoes in his mind, urging him to find out more about the mysterious translator who so carefully suppresses her obvious psychic talent.
I don't want to ruin any more, so I'll stop my summary there. I was drawn in first by the mystery, but didn't mind when it took backdrop status as the developing and conflicting feelings between Jenny and Zach took center-stage. Ms. Mumford did an exquisite job taking a very risky situation (having a man who'd just lost a fiance fall in love with someone else weeks later) and making it convincing. I was definitely rooting for the couple, and the love scenes were tender and heartfelt. The characters and their reactions felt very real, the pacing very comfortable, and the writing clear and vivid. Overall, a very enjoyable read.
You can get this book through Freya's Bower, or browse Debbie's other works on her website.