This is a title I picked up to get a sampling of different authors, and look into St. Martin's Press. My thoughts on each novella below . . .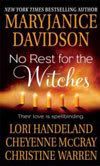 MaryJanice Davidson
"The Majicka"
Life's a bit crowded for Ireland and her roommates—a fairy, a werewolf, a vampire, and now a zombie…especially when a mysterious man walks through the door. Will there be any room left for love?
I'm not usually a fan of the 'light and quirky' side of paranormal romance. I like it dark and angsty. The fact that I enjoyed this story so much is a testament to MaryJanice Davidson's ability. The fact that I picked up another one of her books because of it is 'off the charts' unusual. Okay, I'm exagerrating. But still, I liked it very much. I think it was the sheer boldness of the voice, the inventiveness of her 'version' of some very old and overdone ideas, and the cast of delightful characters. She didn't convert me from my angsty roots, but she certainly entertained me.
Lori Handeland
"Voodoo Moon"
For Devil's Fork–based FBI Agent Dana Duran, the only way to fight a supernatural serial killer just may be to embrace life. But little did she know that voodoo could be so viciously sexy…
This was more along the lines of what I picked up this book for. Again, Ms. Handeland was a new author to me. I will definitely be picking up another title of hers. The premise was along the lines of what I like, the mystery and tension held through most of the story. The hero was dark and sexy and muchos wantable, the heroine I could relate to. The only place this story failed in my eyes was the 'lets have sex to save the world' ploy. Because of that, I undergrade it, because an author of Ms. Handeland's talent should know better.
Cheyenne McCray
"Breath of Magic"
San Francisco's witches are in an epic battle. But even if Sydney can use her sultry ways and ancient Druid powers to save the world, can she risk losing her heart to handsome warrior Conlan?
This one started off good. I was intrigued, but quickly lost interest. I'm not sure what it was specifically, but for some reason, it didn't ring true to me. It felt forced, and the attraction between the two characters was over-emphasized. I kept expecting to read about heaving bosoms. The purple prose kicked me out, and I didn't actually finish. Perhaps the world building that interested me at the beginning would have pulled me back in, but short on time, I didn't give it a chance.
Christine Warren
"Any Witch Way She Can"
A desperately lonely witch decides to take matters of love into her own hands when she casts a cosmic personal ad…only to find that the perfect formula for love is a strange brew indeed.
What I liked most about this story is that it did what most novellas should, in my opinion – it focused on character development and not plot. Yes, a novella needs a mechanism or catalyst to make things happen, but it doesn't need a full novel's worth of plot. I liked that Ms. Warren set up one event, and the fallout that ensued threw the two characters together. She made them real, I could relate to them and understand their choices. Also, I thoroughly enjoyed the heroine in this piece, and the hero definitely had me hot under the collar. Just when I thought I had maybe wasted my money, this piece redeemed the St. Martin's editors in my eyes. I'll be checking out Ms. Warren's other works.