This week, I will be enjoying a bevy of man-titty at the Romantic Times Convention in Las Vegas,Nevada.
I recently read an article in the New York Times.  The article was a look into the romance industry regarding male romance cover models.
According the the article, having a man on the cover of your book is three times more likely to sell than a woman on the cover.  Of course it stands to reason (at least in other blogs I've read) that a topless man will sell even more.
The article doesn't say whether couples sell well together, and whether said couples sell better clothed or nude.
I've always had couples on my books or in one case, two men and a woman.   And I prefer them partially clothed.  I think clothes tell a lot about what you are going to be reading. Gives you a sense of time, characters and heat level. I usually assume the less clothes, the hotter the book.
I have to say I'm not a huge fan of man-titty.  Down girls…down.  Let me clarify.  What I mean to say is… I'm confused by a single half-naked man on the cover.  I know.  Aren't we all?
Obviously if I'm familiar with the author or a certain house imprint, I can make assumptions on what I'm buying.  No, I'm not talking about authors or imprints within a house that give you an idea of what to expect. I'm talking about that random shot, with nothing but the man-titty.
Let's examine: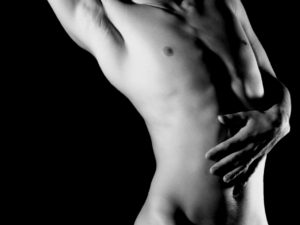 Okay – What is going on with this dude?  He seems young.  No tattoos, so I'm thinking the book isn't about bikers or bad-boys.  No dog tags so not military.  No head, so no idea if he has long hair or short.  No background – so no idea if it is historical, contemporary or futuristic.  Do you understand my confusion?
When a man on a book cover has no shirt on, I have no idea what kind of book it is. Of course, this does cause me to occasionally pick up the book and look at the back.  Especially if he's good looking, like our model above.  In the case of e-books, I'll click on the blurb to find out more.
Now as I writer – I love to find pictures like this on the web, because it sparks my imagination and I can write a story.
So readers, do you have a story to tell about our hero above?
~Tina