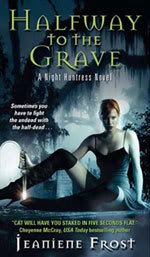 Hello boys and girls, I am Dawn and I will be your blogger for today! For my first post, I thought I'd review a favorite book of mine. Halfway To The Grave, by Jeaniene Frost, is an urban fantasy romance starring Cat Crawfield. I'll try not to spoil the ending for you, but I'll give you a brief look at the main characters and the plot.
Cat's mother (who you will despise and pity) was raped by a vampire at what we assume is a young age. She kept Cat and so the whole town treated her horribly for being an unwed mother. The fact that she filed a report for rape, is apparently of no concern to the townsfolk. This is the ONE thing in the book that galled me. This is set in the 2000's, yet her family and the whole town acted as if it was 1950.
Anywho, back to the story! Cat's mother raised her to believe that she was half evil and that all vampires were completely evil and should be killed. Cat killed her first vampire at 16, and continued to do so with her mothers full support. (Can you tell why I don't like this mother??)
So one night, while out killing vampires, Cat picked the wrong guy. This was a master vampire who quite easily overpowered her. Bones is a vampire bounty hunter who forces her to work with him. He trains her ruthlessly and together, they work to take down a group of killers.
I'm afraid that is all I can say with turning into a squee-ing fangirl and ruining the story. The plot was full of twists and turns and the voice of the story was excellent. I could not put the book down till it was finished. This is actually one of the few books I have ever read twice, and the only book I've read more than twice. My copy is now worn and tattered and dogeared at so many places I'm afraid I'll have to start using tabs and color codes!! The writer managed to pull out a "new" vampire story, which gets harder and harder as time goes by. I was very impressed and will definitely be picking up the sequel, One Foot In The Grave, when it comes out this April 29th!