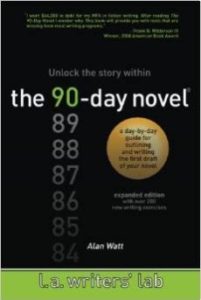 I've been fortunate to have a warm, safe place to share both my writing successes and frustrations in The Writer Zen Garden forum. And now my friends there have welcomed me to host a workshop based on Alan Watt's "The 90 Day Novel".
A local writer introduced me to the idea. I resisted at first, not wanting anyone telling me what and when to write. That's how I initially saw this process despite her enthusiasm.
Now, I feel totally different.
The fact Mr. Watt quoted Julia Cameron near the very beginning of his book decided me that this is the right time for me to embark on such a quest. Alan Watt truly shares Ms. Cameron's gentle approach to getting folks creatively working. Granted, he wants his students writing two hours a day minimum, but I feel comfortable with "The Artist's Way" approach of just doing what I can.
We shall see how I fare as the next three months come to a close. Right now, it's getting me on the page daily. And that alone is worth the price of the book.
Is there anything getting your creative juices flowing these days? Please tell us in the comments.
–